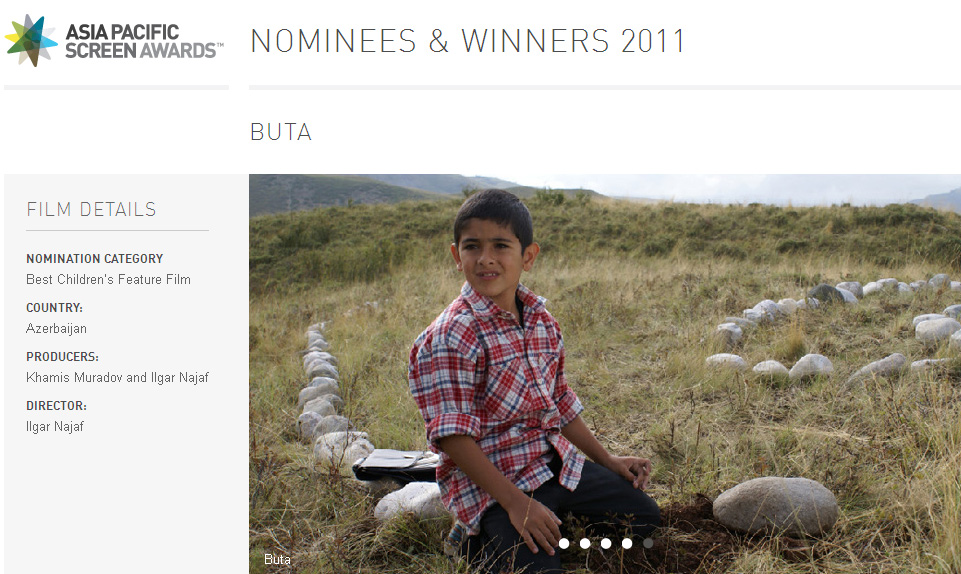 Azerbaijani film "Buta" wins award at the Asia Pacific Screen Awards 2011
On November 24th, the 5th ceremony of Asia Pacific Screen Awards has been held in Australia, and Azerbaijani film "Buta" has been awarded in the "Best children's feature film" category.
The Asia Pacific Screen Awards (APSA) promote and acclaim the cinematic excellence and cultural diversity of the vast Asia-Pacific region. Established in 2007, the annual Awards are the region's highest accolade in film.
Winners are determined by an International Jury and films are judged on cinematic excellence and the way in which they attest to their cultural origins.
An international cultural initiative of the Queensland State Government, Australia, it brings together in a unique collaboration Paris-based UNESCO and FIAPF-International Federation of Film Producers Associations. APSA honours the film culture of a region stretching from Egypt in the west to the Cook Islands in the east, and from Russia in the north to New Zealand in the south, representing a total area of 4 billion people.
Nominees for 2011 Asia Pacific Screen Awards (Asian Oscar) have been selected by the Independent Council for Nominations consisting of experts of film production, directors and authors of the programs of festivals, film critics and academicians from Asia and Pacific.
"Buta" director Ilgar Najaf and producer Hamis Muradov were present at the awards, not only becoming part of the Asia Pacific Screen Awards, but also representing Azerbaijan abroad.
ADDITIONAL INFO: "Buta" is a story about a lonely 7 year old boy (named Buta), who lives in a mountain village with his grandmother. He is befriended by an old man, a liquid soap merchant who once loved (and lost) Buta's grandmother. The old man's friendship and wise advice helps Buta to overcome his difficulties in life.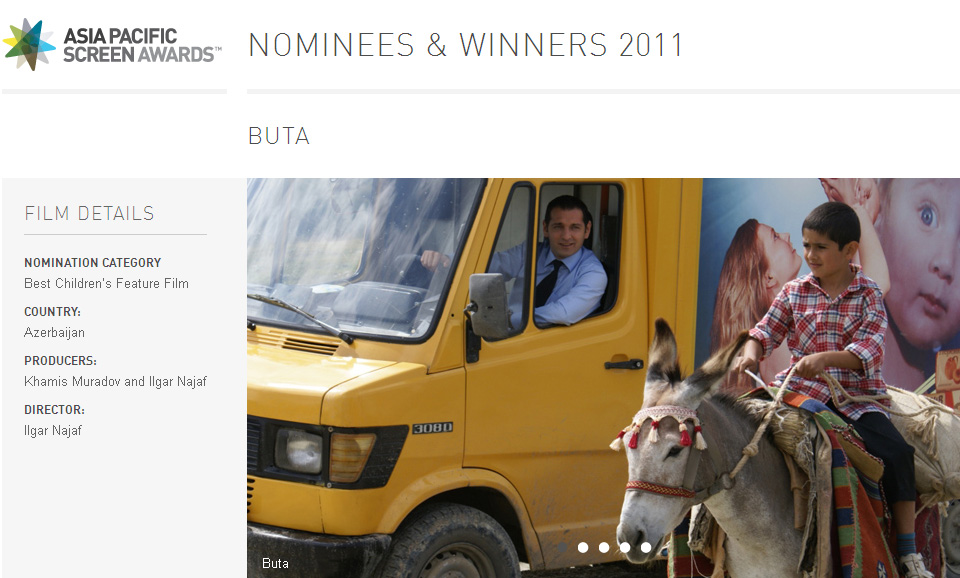 Buta's grandmother, in the meantime, is weaving a special carpet in memory of Buta's mother. The carpet features a 'buta' pattern, which represents love. The boy is inspired by grandmother's work, and decides to make his own "buta" made of rocks and stones, high on the top of the mountain…
Later, a news conference on the International success of "Buta" was held at the Azerbaijan National Library in Baku. During the event, sector chief of the department of cinematography of the Ministry of Culture and Tourism Yusif Sheikhov and "Buta" film director Ilgar Najaа provided information about the picture.
Source: http://bzfilm.com/articles-notes/azerbaijani-film-buta-wins-award-at-the-asia-pacific-screen-awards-2011/