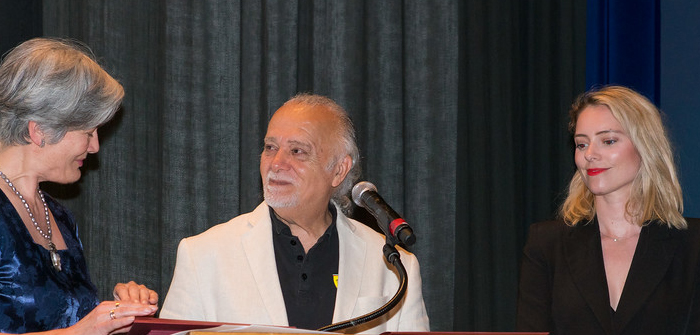 POMEGRANATE ORCHARD wins GoE Bridging The Borders Award at SEEfest
Burbank, CA – May 3rd, 2018: Tonight at the closing ceremony of 2018  SEEfest, (South East European Film Festival LA.), POMEGRANATE ORCHARD, from Azerbaijan, directed by Ilgar Najaf, won GoE Bridging The Borders Award, presented by Cinema Without Borders and sponsored by GoEnergistics.
Nominees for the Bridging The Borders Award were: HAWAII, COMIC SANS, ENEMIES, GOGITA'S NEW LIFE, THE GREY WAR, MEN DON'T CRY, THE MARRIAGE, THE MINER, POMEGRANATE ORCHARD, SECRET INGREDIENT and UNWANTED.
POMEGRANATE ORCHARD
Azerbaijan, 2017, 90'
Director/Producer: Ilgar Najaf
Producer: Mushfiq Hatamov
Main Cast: Gurban Ismayilov, Samimi Farhad, Ilaha Hasanova
Even with the help of his daughter-in-law and grandson, Shamil is too old to take care of his vast and lush pomegranate orchard, which has been his pride and livelihood for many years. When his prodigal son, Gabil, unexpetedly returns after a twelve year absence, they are ready to believe his promises in spite of the deep emotional scars Gabil left on his family. Inspired by Anton Chekhov's The Cherry Orchard.
Jury members for Bridging the Borders Award assigned by SEEfest were:

Therese Hayes has programmed films for the Palm Springs International Film Festival for the past 17 years as well as other world cinema festivals in Bangkok, Mumbai, and is the co-curator of the Indian Film festival in Stuttgart, Germany. She is also working with the Heartland Film Festival in Indianapolis, and is on the board of Film Trust India, and works as a consultant on Indian films to international festivals. Therese was raised in France and London, and studied Far Eastern Civilization at the University of Washington in Seattle.
Sandra Seeling Lipski is the founder and director of the Evolution Mallorca International Film Festival (EMIFF), in Palma de Mallorca, Spain. She is an accomplished actress with notable credits such as CSI NY, Bruno, and Jane the Virgin (CW), and serves as Director of Programming on the film festival team at MissionFest in San Fransisco. In 2017 she was on the juries for the Mammoth Lakes Film Festival and Los Angeles Music Video Festival. Sandra holds a degree in dramatic arts from the Lee Strasberg Theatre Institute in New York and is a graduate of the Los Angeles Film School.
Jacques Thelemaque is an award-winning writer, producer and director who founded the Los Angeles filmmaking collective Filmmakers Alliance in 1993 and FA Productions in 2004. He was also Chief Community Officer of Withoutabox.com in 2005. Jacques has also been a programming associate at the Los Angeles Film Festival since 2011 and has been an advisor, board member, programmer, juror or invited speaker at numerous film-related organizations and events.
Jacques has written and directed numerous short films, including "Transaction" which played at the Sundance Film Festival, and won the Grand Prix du Jury Award in the Labo Competition at the Clermont-Ferrand International Short Film Festival. He also wrote, directed and produced the feature film "The Dogwalker" as well as produced five other feature films.
About SEEfest
The 13th South East European Film Festival Los Angeles (SEEfest) run from April 26 to May 3, 2018. SEEfest is a competition festival presenting cinematic and cultural diversity of 18+ countries of South East Europe to American audiences. SEEfest creates cultural connections through films, artistic and social events.
Each year the festival takes the audience on a journey to the cinematic and cultural crossroads of the countries along the Danube and across the Balkans, touching on the Euro-Asia divide on the eastern shores of the Black Sea and the Caucasus. SEEfest is showcasing independent cinema and providing a platform in the U.S. for the discovery of new talent from South East Europe.
http://seefilmla.org/
On the left, Vera Mijojlic, founder & Director of SEEfest & Bijan Tehrani
About Cinema Without Borders
Cinema Without Borders (www.cinemawithoutborders.com) is an international cinema webzine dedicated to covering and discovering the news, reviews, trends and new artistic milestones in independent film and filmmaking worldwide. Cinema Without Borders Foundation is a non-profit organization supporting independent and international cinema and filmmakers.
About GoEnergistics
GoEnergistics is dedicated to "Serving Those Who Serve"
Federal and Private Sector healthcare facilities form the back-bone of an industry focused on healing environments and serving the needs of their patients. As a trusted partner of choice, GoEnergistics' mission is to dramatically improve healthcare buildings and delivery systems to empower optimal performance and promote the best possible care. Whether it is planning services, design, procurement assistance, medical equipment installation, logistics support or "all-of-the-above," GoEnergistics is committed to "Building Solutions that FiT Your Healthcare Needs."
Photos by Aaron Perez
About Author